Tuition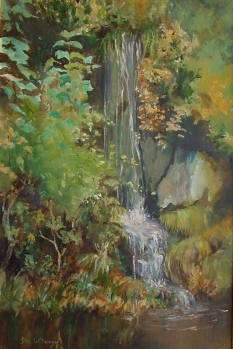 Classes in Holt (nr Wrexham), in the Kenyon Hall.
The classes take place every Wednesday from 1pm until 3.30pm.

Weekly demonstrations vary, and may be in oils, watercolours, or pastels.

Since there is plenty of time for individual tuition, students may either use the medium of the demonstration, or concentrate on the medium of their choice.

The fee is £45 for 10 sessions.

This class has spaces available. Beginners are very welcome.

Please email me for more details.
Programe for the next lesson series
We will continue to work at sketching, so please bring scrap paper and a biro as we did last term.
| Date | Medium | Image |
| --- | --- | --- |
| January 31st to February 21st | Oil or acrylic | Buildings – I suggest your own town or village |
| February 28th to March 28th | Watercolour | As above. |
Look for a good composition - try to get your focus using the thirds plan. Remember you are not painting a portrait of a particular building, rather aiming to give an impression of your village or town. Choose something that attracts you , as you will engage more with your painting.
I would like you to try to photo the image yourselves – or sketch it if you have the time, rather than looking on the internet or in magazines.