Tuition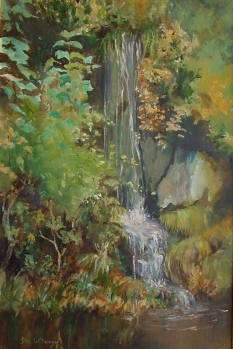 Classes in Holt (nr Wrexham), in the Kenyon Hall.
The classes take place every Wednesday from 1pm until 3.30pm.
The fee is £45 for 10 sessions.
This class has spaces available. Beginners are very welcome.
Please email me for more details.
Programe for the next lesson series, February 6 to April 10 2019
We will continue to work at sketching, so please bring scrap paper and a biro as we did last term.
We are going to concentrate on Watercolour for the entire lesson series.
Collect objects, sketches, pictures and photos of things you would like to paint. Don't reject any as too difficult – we may use only part of a picture, or simplify one. Put the reference material in a folder so you can consult it easily, making a note of any objects you have selected. If you start your collection now, you should have lots by February 6th; THIS IS IMPORTANT as we don't want to be scratching around for subject matter .
Collect your equipment together. I've suggested sheets of watercolour paper there, and normally recommend that, but in this case I am suggesting that two pads might be more appropriate to hold the term's work together.
So I suggest 2 small Spiral Bound Bockingford Pads, both 10" x 7", one of NOT paper (meaning not hot-pressed) and one of Rough paper, to become familiar with the different surfaces.