Tuition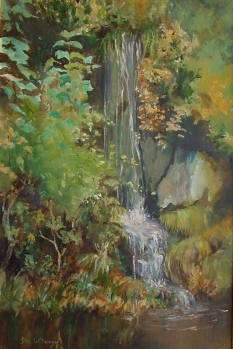 Classes in Holt (nr Wrexham), in the Kenyon Hall.
The classes take place every Wednesday from 1pm until 3.30pm.

Weekly demonstrations vary, and may be in oils, watercolours, or pastels.

Since there is plenty of time for individual tuition, students may either use the medium of the demonstration, or concentrate on the medium of their choice.

The fee is £44 for 10 sessions.

This class has spaces available. Beginners are very welcome.

Please email me for more details.
Programe for the current lesson series
We will continue to work at sketching, so please bring scrap paper and a biro as we did last term.
| Date | Medium | Image |
| --- | --- | --- |
| April 26th May 3rd, and 10th | Watercolour | A simple picture of a narrow boat on a canal with trees in the background. |
| May 17th, 24th, 31st, and June 7th | Oil or acrylic | Narrow boats, a perspective scene |
| June 14th 21st and 28th | Pastel | A canal bridge with trees and maybe a boat |
In the first painting we will be examining ways of painting trees en masse working on rough watercolour paper. If you don't have any I will give you some.
In the second I want you to find an unusual view of narrowboats. Mine is a picture looking straight on the prow from a low viewpoint (there are five boats in the picture) with practically no sky in the frame. The picture is long and narrow.
The third painting shows a characteristic canal bridge reflected in the water, with a bush covered bank and a couple of small boats.